Outdoor Environments has a 72Hp Full size Bobcat skidloader.We have many attachments and can rent 45 different attachments. Our Large 60" bucket can spread dirt or rock quickly or dump a load up to 10' high.The auger can dig holes from 7" to 42 " wide and up to 6 feet deep. From a brush hog cutter to a concrete breaker,there is a attachment to help make your job easier.Look at the bobcat attachment list below; if we dont have it we can get it.

Outdoor Environments uses Iowa One Call to have all public utilities located prior to any excavation.We have a private locating service ,that can locate private utilities or improvments not covered by one call.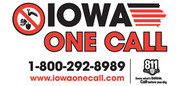 Call 48 hr before you dig
Click on picture to see all attachments.
CALL - 515-254-9176